We construct 3M™ 100 Series High Performance Liquid Filter Bags using polypropylene microfibers that allow very fine particle capture at high efficiencies. With over 90% particle removal efficiency at their suggested application rating, our Series 100 filter bags offer an excellent balance of high efficiency with very low initial pressure drop and an effective alternative to filter cartridges.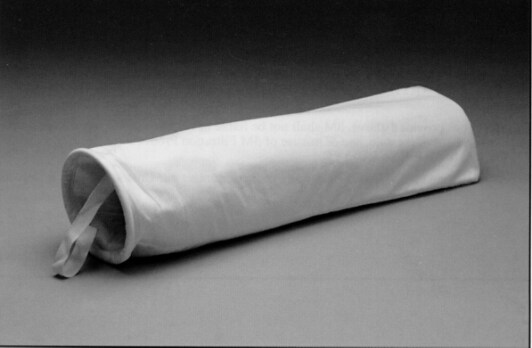 Our 3M filters are constructed of FDA CFR-21 Listed Materials 100 Series Liquid Filter Bags can also adsorb unwanted trace oils that frequently occur in processed fluids. The high amount of surface area, due to the polypropylene microfiber construction, results in oil holding capacities of 10 or more times the filter's own weight. 3M 100 series bags are offered in Size #1 and #2 configurations, in grades from 1.5 to 34 microns at initial efficiency.
Filter Media
Polypropylene microfiber filter media provides high particle removal efficiency for high quality filtration with broad chemical compatibility. We use no silicone in the materials of construction, nor in the manufacture of these products.
Plastic or Metal Ring Seal
Proper sealing of the bag in the filter housing is necessary for prevention of fluid bypass and subsequent contamination of the downstream fluid. 3M 100 Series Liquid Filter Bags are offered in both polypropylene and metal ring sealing collar versions that will properly seal onto most filter bag manufacturers' housings.
We offer a plastic collar model in which the filter bag media is welded to a specially-designed plastic collar for proper sealing of the 3M 100 Series Liquid Filter Bags in most conventional bag housings. The plastic collar incorporates an ergonomically designed handle, which allows easy removal of the filter bag from the filter housing, and for the insertion of bag accessories (displacement balloons, magnets, etc.). For ease of identification and traceability, the handle is engraved with micron grade and manufacturing lot information.
Ring collar versions use a stainless steel ring for sealing most versions of the 3M 100 Series Liquid Filter Bags into the housing. These versions are appropriate for use in most filter bag housings that will not accept the plastic collar version.
Applications
Acids and bases
Machine coolants
Amines
Makeup water
Carbon beds
Organic solvents
Completion fluids
Photo chemicals
Deep wells
Plating solutions
Desalination
RO membranes
DI resins
Storm Water
Glycol
Wastewater
Groundwater clean-up
Waterflood