3M™ Series NB Polypropylene & Polyester bag filters leverage 3M's filtration experience and manufacturing expertise to provide cost effective solutions for applications where nominally rated bag filtration is appropriate. 3M Series NB bags are offered in Size #1 and #2 configurations in grades from 1 to 200 microns and fit into standard bag filter baskets and housings.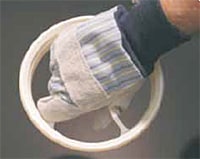 Plastic or Metal Ring
Proper sealing of the bag in the filter housing is necessary for prevention of fluid bypass and subsequent contamination of the downstream fluid. All of our 3M™ Series NB Polyethylene and Polyester Filter Bags are offered in both plastic and metal ring sealing collar versions that will properly seal onto most filter bag manufacturers' housings.
For plastic collar versions, we weld the filter bag media to a specially designed plastic collar to provide proper sealing of the 3M NB series filter bags in most conventional bag housings. The plastic collar incorporates an ergonomically designed handle allowing for easy removal of the filter bag from the filter housing. Handle designs also allow for insertion of bag accessories (displacement balloons, magnets, etc.) For ease of identification and traceability, we engrave the handles with micron grade and manufacturing lot information.
Metal ring collar versions use a galvanized steel ring for sealing the 3M NB series filter bag in the housing. These versions are appropriate for use in most filter bag housings that will not accept the plastic collar version.
Made to Filter
We manufacture each felt filter bag grade from high performance fibers based on extensive media performance testing. They provide good to excellent chemical resistance to mineral acids, organic acids, alkalis, organic solvents, and microorganisms. All of our 3M NB series filter bags are ISO 9001:2008 certified and do not include silicone, binders, or adhesives. All polypropylene grades and specific polyester grades use materials that are listed for food contact per 21 CFR.